CSF Survey: Analysis of Respondents
Responses were analysed according to industry, discipline, role, location and size of initiative.
Industry
Respondents were relatively evenly spread across different industries, including several with cross-industry experience (included under the 'Other' category on the chart).
Discipline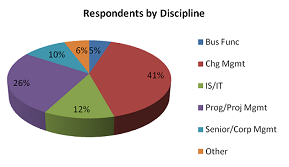 Professionally, two groups - Change Management professionals and Project & Programme Managers - represented around two thirds of the respondents.  Their somewhat different views on the relative importance of the Critical Success Factors lead to some interesting insights - see below.
Role
Three groups of people - Managers, Professionals and SVPs/VPs/Directors - accounted for almost 80% of respondents.
Region
Two regions, Europe and the Americas, dominated the survey with over 80% of total responses.
Size of Initiative
Finally, there was a reasonable distribution of experience across the spectrum of small projects to large programmes. 
Respondents with experience on projects/programmes up to £10M represented just under 60% of the population.