Spotlight: The Rapid Assessment
In this climate, it's more important than ever to be sure that your change initiatives are set up for success.  Yet everyone has to do more with less.  Your people are busy, and they don't need a long, disruptive review - especially if it doesn't get to the root of the situation.
Based on extensive experience, we have developed the Rapid Assessment as a way of giving you, within a week, a clear view of your initiative's strengths and areas for improvement.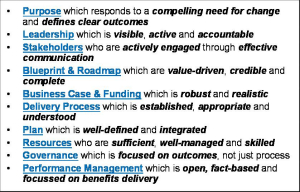 We help you get an overall view of your status and priorities by assessing how your initiative is doing against the 10 Critical Success Factors for successful change.
Working with you, we apply the Critical Success Factors to your particular situation, identifying specific strengths and challenges in your initiative and deriving a clear, achievable set of actions to address any issues.
The Rapid Assessment gives you a clear picture of how strong the foundations really are, on the ground as well as in the C-suite, and a solid basis for fixing the weak areas. 
What does it involve?
We normally meet about 6-10 of your people, from different aspects of your initiative, for about 1 hour each and take them through a structured assessment questionnaire. 
We then process their answers and provide you with an Assessment Report summarising the organisation's performance against the 10 CSFs and, crucially, how we recommend you address any issues.
From the information in the interviews, we also give you a view of the underlying problems and offer insights into the reasons for them.  Finally, we offer our overall observations and specific recommendations for next steps.
We build the Report strictly from the information your people provide, supplemented by our experience, and we give you full visibility of the data.
We take you through all this in a face-to-face discussion.  Then if, but only if, you want us to, we can work with you to diagnose your situation in more detail and help you address the issues.
An exampleˆ: Forging ahead, but is the purpose clear?
This organisation was driving ahead with an ambitious restructuring, but the assessment highlighted significant issues - particularly with the purpose of the change.
Although senior executives felt that the reasons for the change and the required outcomes were clear, this view was not shared by the delivery teams.
Equally importantly, the blueprint and roadmap were not clearly defined or aligned to the purpose - which is perhaps not surprising, given the lack clarity around the purpose.
Resources, though, were ahead of the level expected at this stage of the initiative.  This suggested that high levels of effort were pulling the initiative along - but not necessarily in the right direction, and at a high cost.
The next steps focused on clarifying and re-communicating the purpose; establishing a clear, aligned blueprint and roadmap to achieve it; matching resource levels to the work; and a ensuring a strong focus on governance to deliver effectively.
The Rapid Assessment has proved to be a valuable first step in clarifying the challenges and identifying what needs to be done, but as a short, overall review it cannot provide a complete, detailed analysis - and it certainly does not instantly solve the issues it identifies.
In short: it isn't the only thing you may need to do, and it certainly isn't the only thing we can help you with˜, but it is a powerful start.
To download a full description of the Rapid Assessment, please click here.  (This opens a pdf file in a new window) 
---
ˆ  See

our CSF Case Studies for more examples, adjusted to preserve client confidentiality.
˜  See

Our Services for more information on our offer.